Whiskey Lemon Cooler
There's nothing better, at least in my opinion than a good Whiskey Lemon Cooler. Sure you could have an Old Fashioned or a Whiskey Sour but when it's summer and you have plans to spend the day outdoor there's nothing like this drink.
This is my go-to beverage when I'm hosting friends outdoors or when the temperatures are high. It's refreshing, strong, and packed with flavor. It also happens to be a crowd favorite…so I keep making it. If it's not broken why change it right?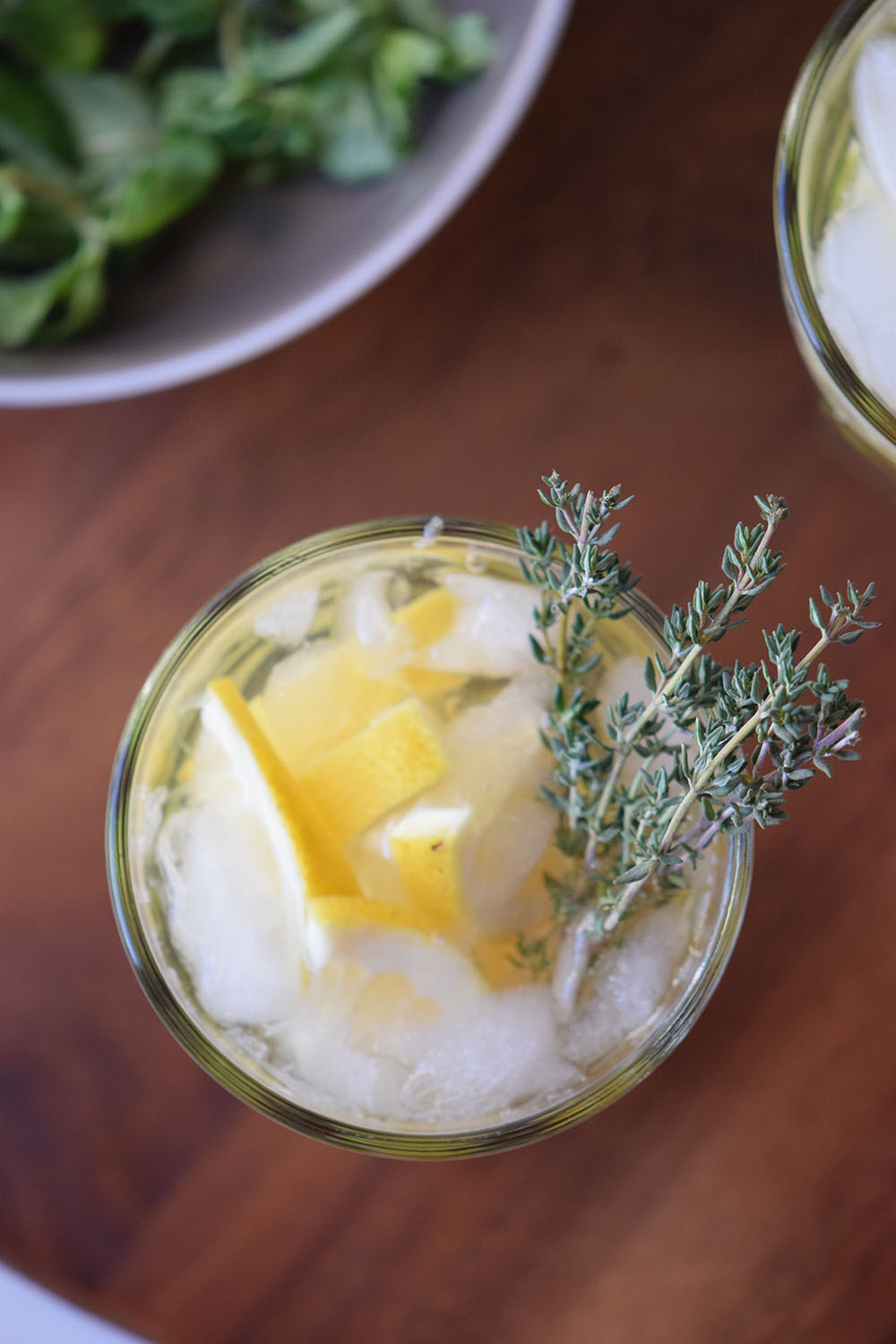 This is also super simple to make you just need to keep a couple of things in mind.
1. The herbs: Add them. There's no turnaround, you really need to add them if you want your drink to taste really good. Herbs infuse the Whiskey Lemon Cooler with a lot of flavors and add another layer of flavor. So if you are going to skip any step, don't pick this one. I went with thyme because in my opinion it goes great with the whiskey, but this drink goes great with basil as well.
2. The seltzer: The carbonated factor in the seltzer is what makes this drink really refreshing. if you feel like making this recipe even stronger you can swap the seltzer for beer. The whiskey, beer combo is a bomb so drink it with care.
3. Ice: Go big or go home with this one. Seriously tho, fill your glass to the top with ice, this is to cool down after all.
I prefer to mix up things individually instead of whipping up a pitcher. since this recipe is bubbly I find that if you make a huge pitcher you lose up part of the bubbles and it's just not as good.

Pair this Whiskey Lemon Cooler with some Citrus Glazed Pork and you are all set for the day.
Whiskey Lemon Cooler
Ingredients
1 oz. whiskey
1 lemon, sliced
1 lime, sliced
Seltzer
Ice
fresh thyme sprigs
Directions
Fill half a glass with ice.
Add the whiskey and complete with seltzer.
Add the lemon and lime slices, and stir.
Add some thyme sprigs.
Enjoy
Facebook Comments