This Yuengling Braised Chicken Wings shop has been compensated by Collective Bias, Inc. and its advertiser. All opinions are mine alone. The following content is intended for readers who are 21 or older. #YuenglingFlyAway #CollectiveBias
Yuengling Braised Chicken Wings
Beer and wings. To my way of thinking, the pairing of beer and wings is about as perfect as apple pie and ice cream. They just go together. This got me thinking; what if you could put the beer into the wings? I wanted a wing that captured the flavor of beer; a wing that would be perfect to bring tailgating. It was with this thought that Yuengling braised chicken wings were born.
Why Yuengling
I chose Yuengling for the recipe because I like it, simple as that. It is a staple in my refrigerator, and I enjoy the flavor. I also happen to hold the company in high regard.
Yuengling is America's Oldest Brewery. Brewed in Pottsville PA, Yuengling is a family owned business that has been going strong for 190 years. Today Yuengling is run by the 6th generation…four sisters…and the commitment to quality is just as strong as it was well over 100 years ago. This is a company that takes pride in their heritage, product, and community. You can learn more about the company, the family, and all of their community work over at the And Daughters Blog.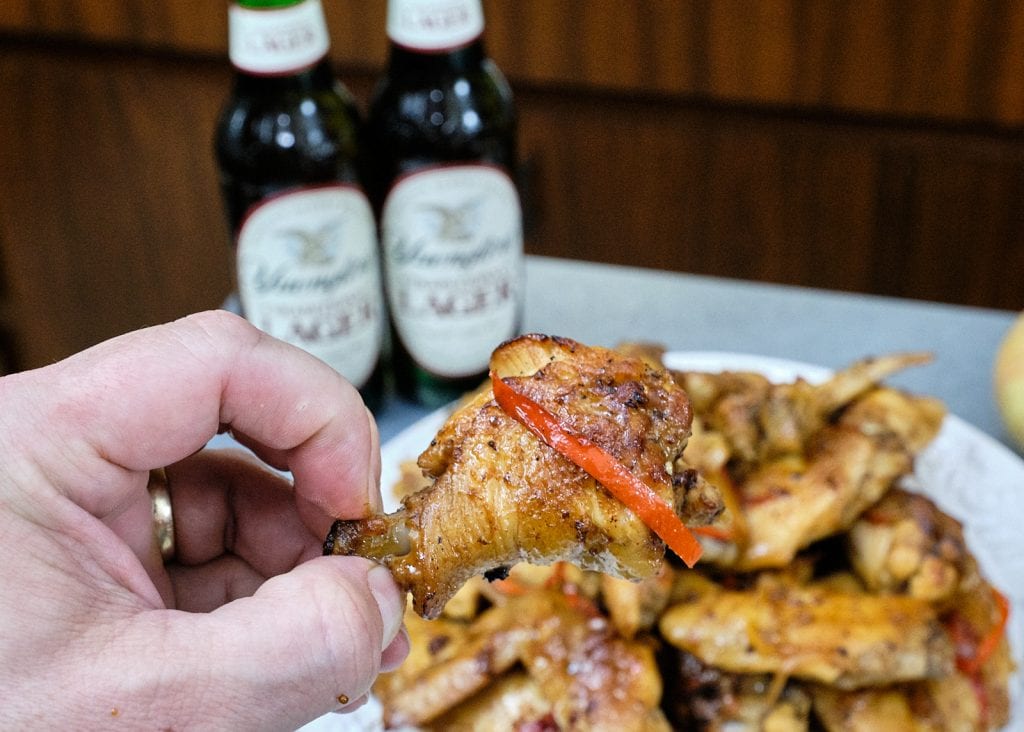 Yuengling Spread Your Wings Music Festival Sweepstakes
In celebration of their 190th birthday, Yuengling has put together the Riptide Fly Away Sweepstakes offering a chance to win a trip to the Riptide Music Festival in Ft. Lauderdale on November 23 and 24th. Entering is super easy, and you have several options. The easiest method is by texting the word RIPTIDE to 65047. Alternatively, you can enter online by following this link. The event should be a ton of fun, so check it out (and bring wings). See rules for full details Open to legal residents 21+.
Yuengling Braised Chicken Wings or Beer Braised Chicken Wings
So let's just assume you won the sweepstakes, and now you need some tailgating sustenance. Let get cooking! The first step to making the Yuengling Braised Wings is to collect your ingredients. Go find the stuff in the list below….I'll wait. We hope you love these beer marinated chicken wings recipe.
Ingredients
1 bottle Yuengling Traditional Lager
3-4 Tbsp vegetable oil
30 wings, dried with a paper towel
3 small sweet peppers, sliced thin
1/2 onion, sliced thin
3/4 tsp smoked chipotle chili pepper flake
1 Tbsp honey
1 Tbsp brown sugar
1 Tbsp whole grain mustard
1 Tbsp go-chu-jang (spicy Korean pepper paste, it's in the Asian section of your grocery store)
1/2 cup ketchup
Alright, first thing to do is preheat your oven to around 475 degrees. Meanwhile, grab the largest skillet you have and heat the oil over a medium high flame. Once the oil is hot, add the chicken wings. Cook them for about 3-4 minutes per side. You are not trying to completely cook the wings in this step; you just want to crispen and brown the skin a bit. Once done, remove the wings from the pan, and pour off most of the oil.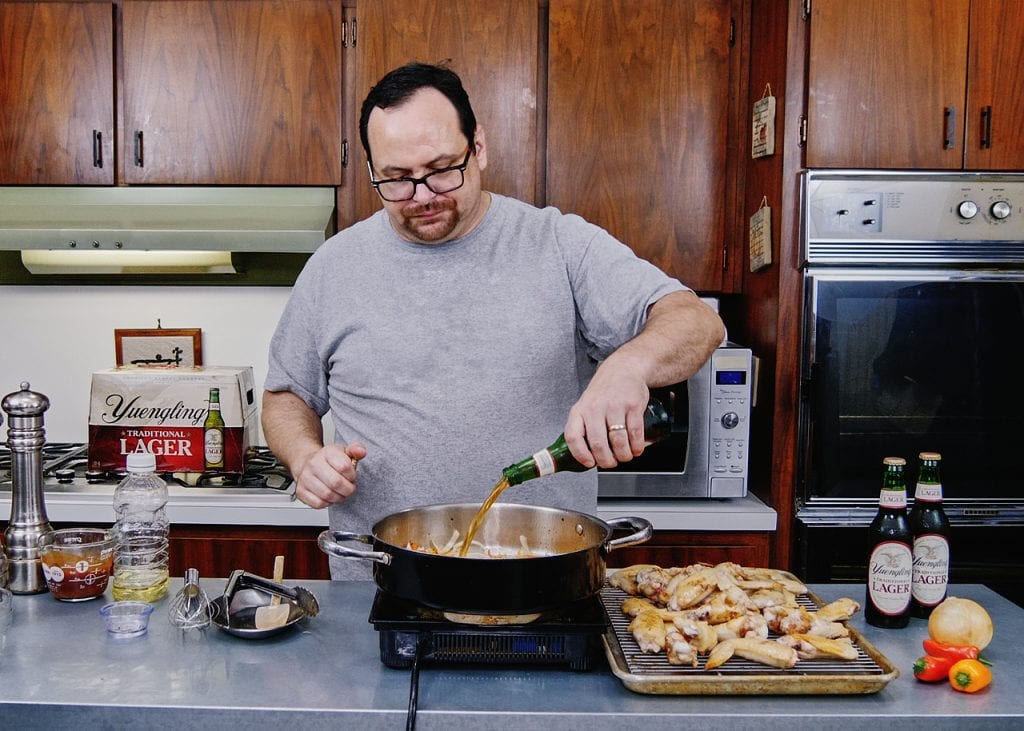 Next, we are going to add the peppers and onions to the skillet over a medium flame. Saute for 2-3 minutes, and then add the smoked chipotle chili flake. Saute for 30 seconds or so, and then add the Yuengling and rest of ingredients.
Now I did say these were Yuengling Braised Wings, so here is where the braise comes into play. Once your sauce comes to a boil, reduce the heat to low and add the wings back to the skillet. Coat the wings with the sauce and then cover, cooking at a low simmer for 20 minutes. Stir the wings 2-3 times during the cooking process.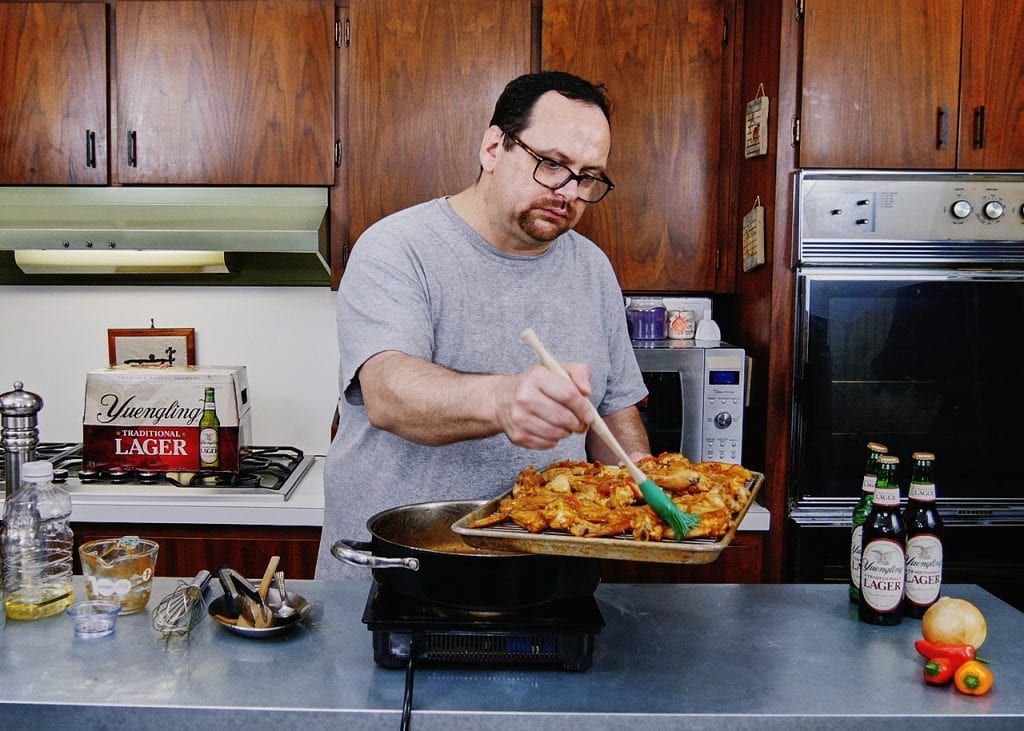 After 20 minutes, remove the wings and place them on a sheet tray (I also used a rack in the tray, but everything should still work without one). Reduce the sauce in the pan until thick, and then baste the wings. Be sure to coat them really well with the sauce. Now pop them in the oven for about 5 minutes. This final short high temp bake will set our sauce.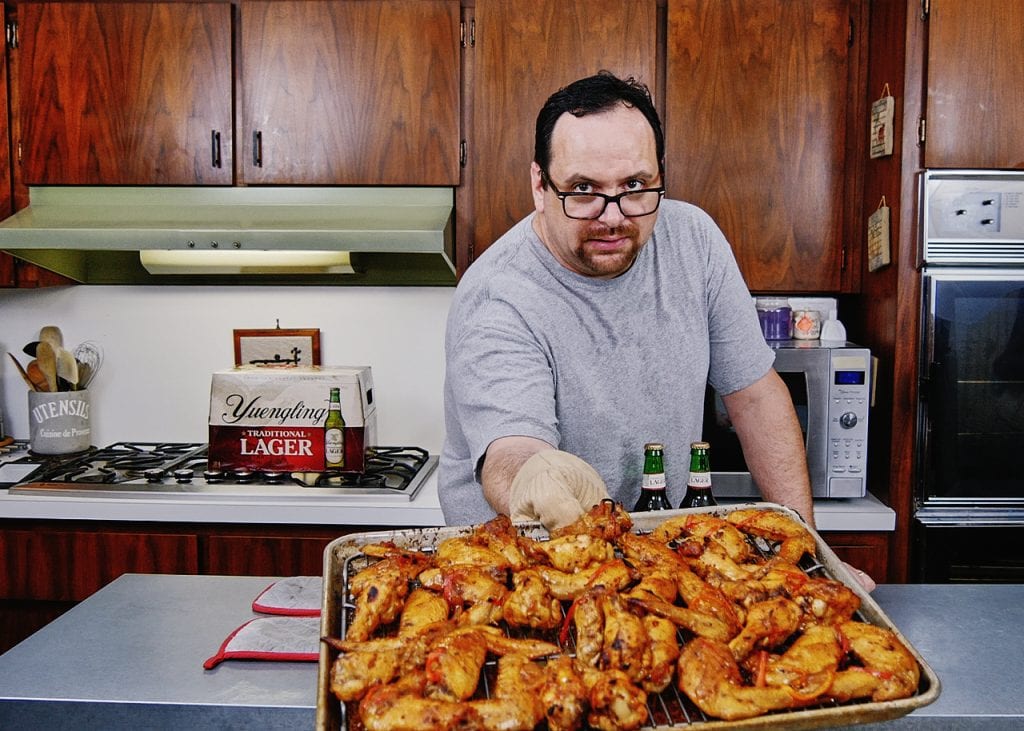 After 5 minutes are up, pull the wings out of the oven. Now eat your Yuengling Braised Wings! That's it! You can learn where to find Yuengling here: https://www.yuengling.com/find-our-beer/, so no excuses….it's time to get cooking. Cheers!