This recipe is spicy, it's hot and it's perfect to share with family and friends. It's also a great appetizer to serve for a game watching party or to make for a summer get together. But trust me pal, these Spicy Pork Tacos are going to become the talk of the town.
There are two secrets to making this recipe so good. First: Go heavy on the jalapeño and chiles. Add some, and then some more and then top everything with more jalapeño, this is what makes this recipe smoking hot good. Second: Make the pork flavorful, the pork is one of the stars of this recipe so you want to have a meat that's properly seasoned and that packs a punch on itself.
To pack the pork with flavor I use a spice mix, basically adobo (great to have on hand if you like to cook Mexican or Latin food), cilantro, BBQ sauce and sriracha. You want to cook everything together until the pork is done. When cooking you can add a couple of tablespoons of water to make the pork more tender.
Once your meat is done is time to mix everything and create your Spicy Pork Tacos. You can either serve everything in bowls and dishes so everyone can make their own or you can prepare them yourself. If I'm making them for a party I prefer to go the DIY route but if I'm cooking dinner for my family I prefer to make them myself and serve them already done.
To make them I warm the flour tortillas in the oven wrapped in aluminum foil for a couple of minutes. Fill them with pork, cilantro, red cabbage, corn, and jalapeños and that's it. Sometimes I also add cheese and other times I place them in a baking dish, cover them with a couple of cups of cheese and bake until bubbly.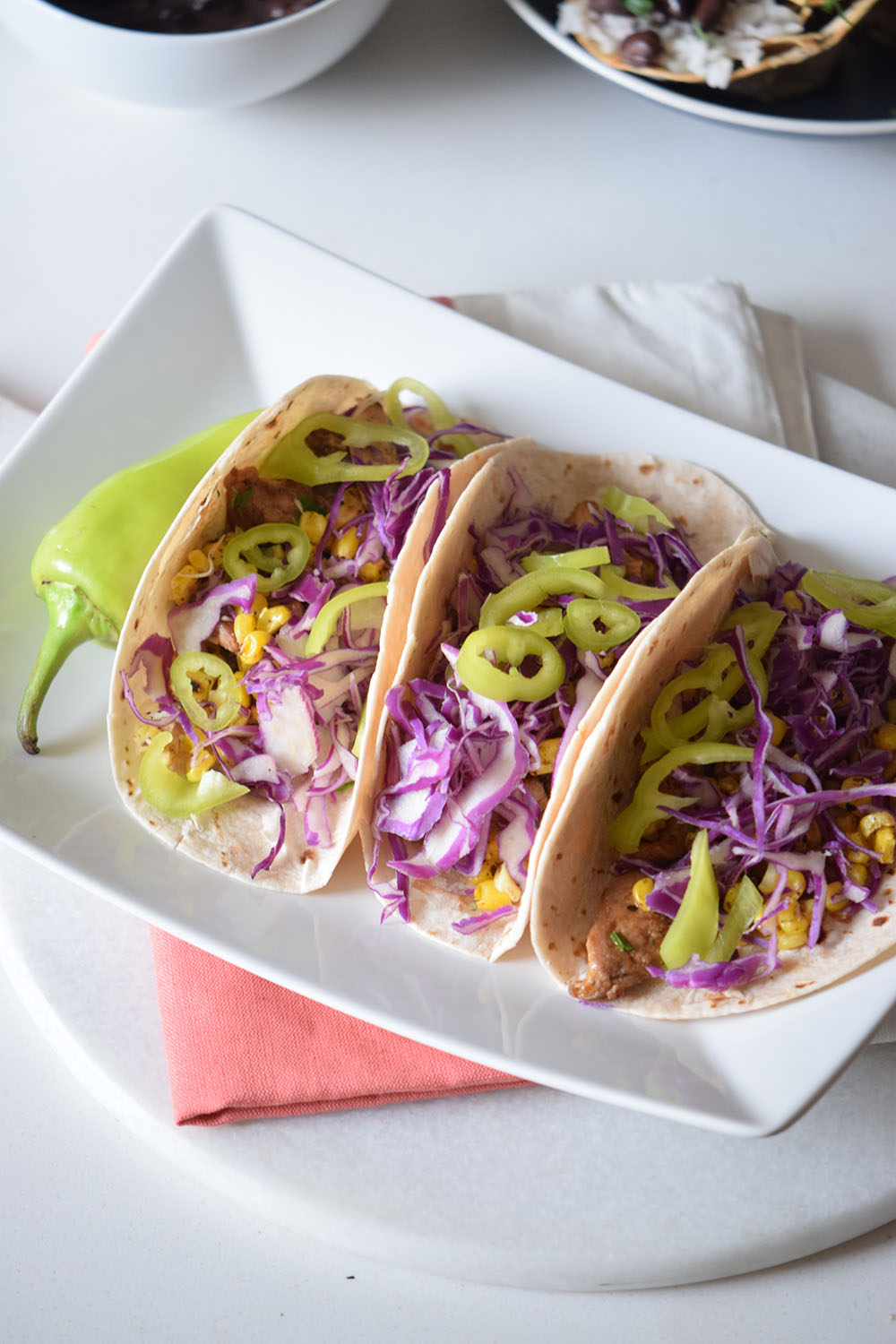 Spicy Pork Tacos
Ingredients
4 Cups chopped pork
2 Tbsp adobo
1 Tsp salt
1 Tsp pepper
1 Tsp garlic powder
3 Tbsp BBQ sauce
2 Tbsp sriracha sauce
1 Cup cilantro
2 Cups corn
2 Cups chopped red cabbage
½ chopped jalapeño
Flour tortillas
Directions
Place the pork, adobo, salt, pepper, garlic powder, sriracha, BBQ sauce, and ½ cup cilantro, in a pan over medium heat.
Cook until done and set aside.
Optional: in a pan over medium heat place the corn and grill it for 5 minutes.
In a bowl mix ½ cup cilantro, the corn, red cabbage, and jalapeño.
Fill each tortilla with ⅓ Cup pork and ⅓ Cup corn mixture
Serve and enjoy.Tips: Add some cilantro mayonnaise for a moister result. Swap the pork for chicken, ground beef, or tofu. Swap the flour tortillas for corn tortillas to make it gluten free.