It's Summer, it's hot outside, the grills are sizzling and the days are perfect to be outdoors by the lake, by the grill or camping, which means that's the perfect moment to eat ice cream. Specifically this bacon chocolate ice cream recipe.
I know I know, bacon in the ice cream is probably one of my craziest ideas so far. But I'm on a pursuit to include it in each meal, including dessert and this is the best way to do so. The combo is not crazy, quite the opposite is pretty good!
If you have had a maple bacon donut then you probably already know that the sweet salty combo is GOOD, in this case, we also have the creamy crunchy one that takes things to a whole new (bacon) level.
And then we also have the chocolate because chocolate makes everything better. So creamy, crunchy, salty, sweet and with a chocolate punch? Count me in pal!
But to eat bacon chocolate ice cream you have to actually make it, which can seem like the most difficult thing on the planet. Except that is not. It's easy, really easy. You just need a couple of easy to find ingredients, really crunchy bacon bits (the crunchier the better is how the saying goes) and an ice cream maker.
Just mix everything, pour into the machine and let it do it's own thing while you sit bag and watch a game, go out to throw some balls or start the BBQ process.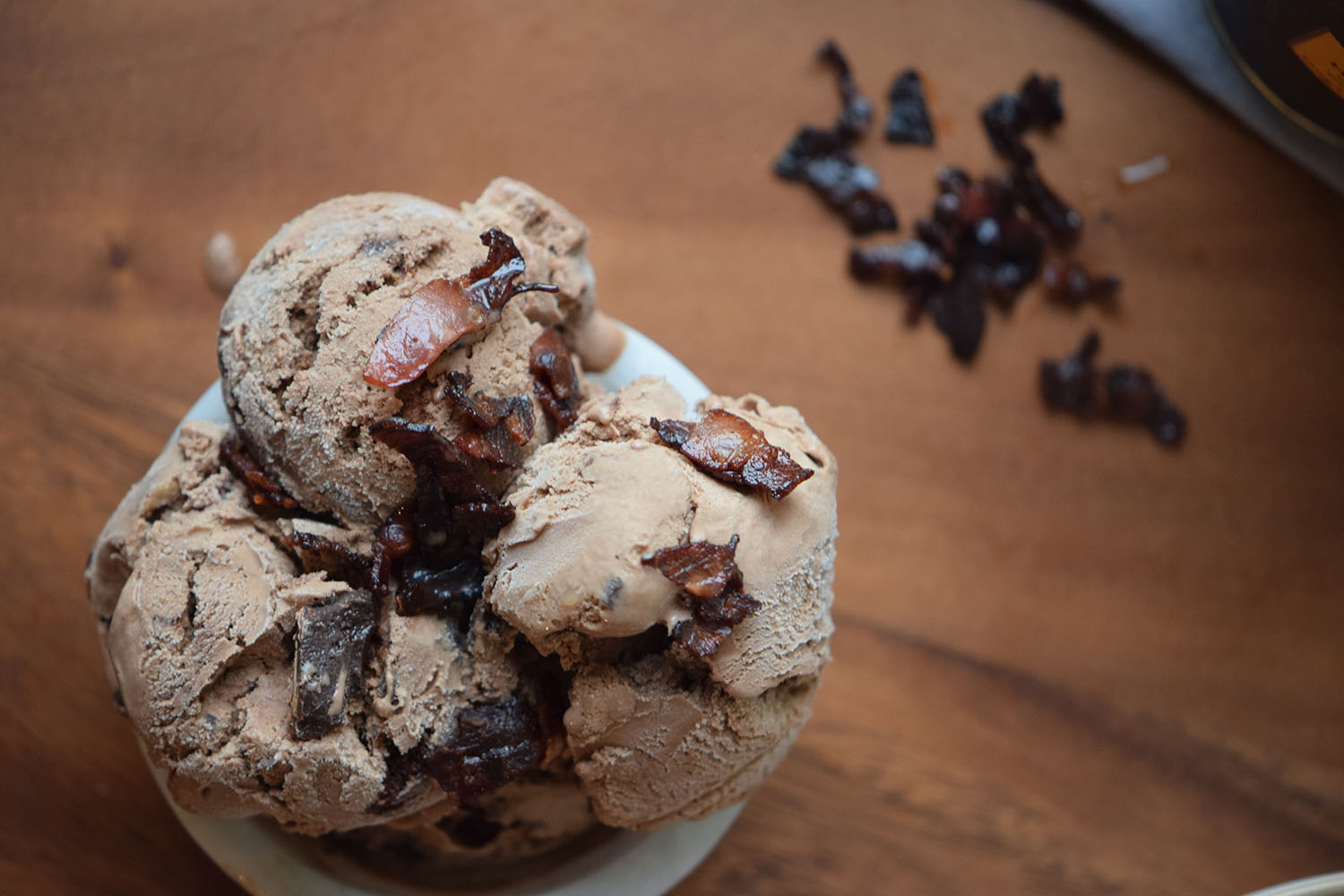 Once the ice cream make ends up the cycle (it can take as little as 30 minutes if you have a good machine) serve the ice cream in a bowl and top it off with more bacon bits because there's not such a thing as too much bacon. This Bacon Chocolate Ice Cream Recipe is sure to please.
Bacon Chocolate Ice Cream Recipe

Ingredients
1 Cup milk
1 Cup heavy cream
1/4 Cup cacao powder
1/4 Cup melted chocolate
1 Egg yolk
1/2 Cup sugar
1 Cup chopped bacon bits
Directions
In a bowl mix the milk, heavy cream, sugar, cacao and the egg yolk.
Slowly pour in the melted chocolate, add half of the bacon bits and keep mixing until everything is well incorporated.
Pour into the ice cream maker and churn according to directions.
Scoop into bowls and top with the remaining bacon bits.
Enjoy this Bacon Chocolate Ice Cream Recipe and let us know what you think!