17 Cherry Recipes
Cherries are one of life's greatest gifts to fruit. They are the perfect ratio of sweet to tart with a great mouth feel and they just taste amazing. I could pretty much use cherries in everything and love it. The family on the other hand might protest but…I am the chef. Seriously though check out some of these fun recipes from this carefully curated list with these delicious little fruits. We hope that you love these 17 Cherry Recipes.
Did you know that cherries are bursting with antioxidants, packed with fiber and vitamins and are just really good for you? In fact, 29 studies on the health benefits of cherries proved that the cherry has a very helpful anti-inflammatory property, can help provide improved sleep by fighting insomnia, have been linked to lowering blood pressure and helping with hypertension. We even drink cherry juice in this house and always have it in the fridge. With all of these benefits of cherries, what are you waiting for?
17 Recipes Using Cherries
1. Cherry Lemonade Muffins
2. Cherry Cheesecake Dessert Jars
3. Cherry Ice Cream
4. Chocolate Cherry Muffins
5. Pear and Cherry Salad
6. Cherry Chocolate Almond Energy Balls
7. Cherry Coke Cupcakes
8. Cherry Streusel Bars
9. Cherry Mint Water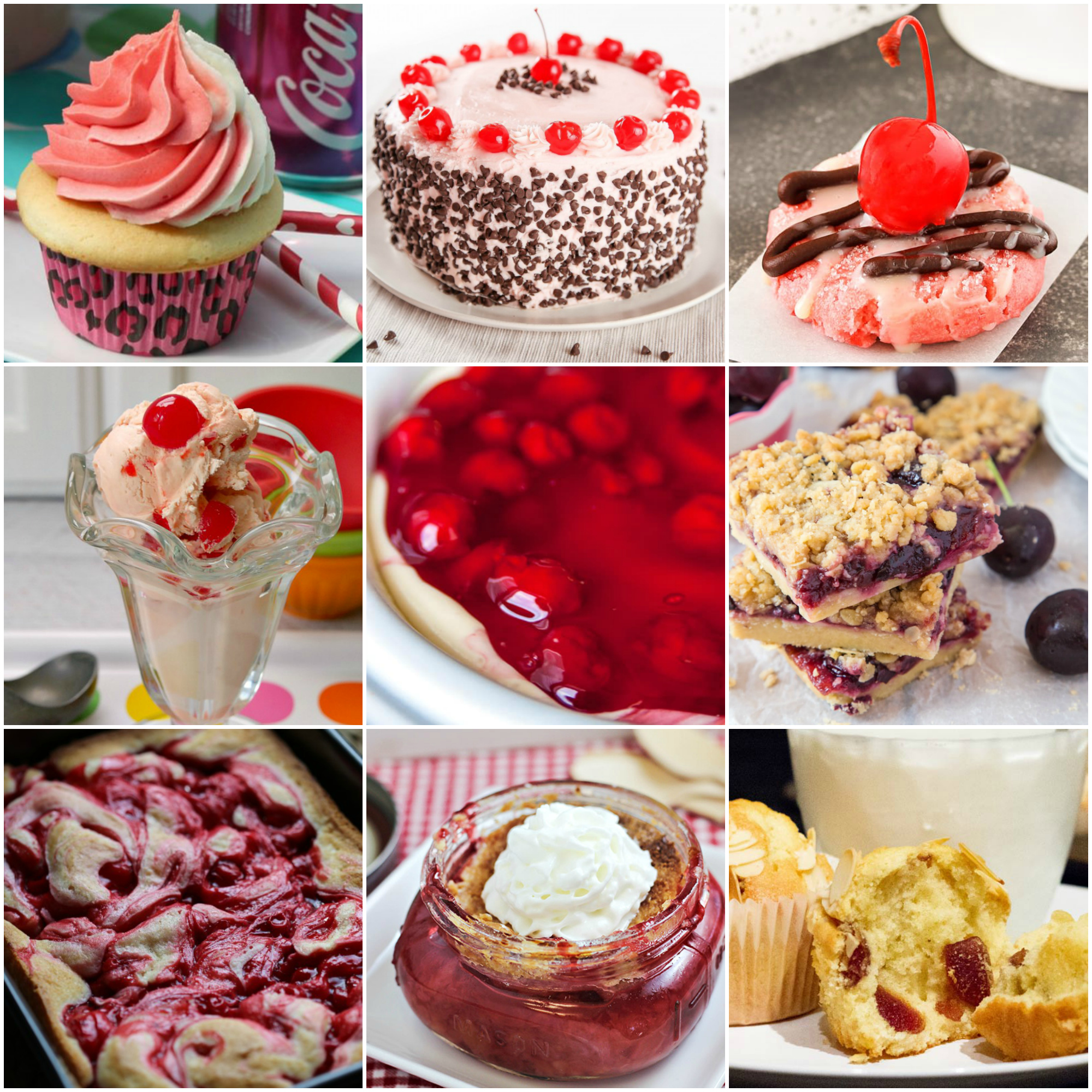 10. Cherry and Almond Muffins
11. Cherry-Pineapple Dump Cake in a Jar
12. Chocolate Covered Cherry Rice Krispie Treats
13. Cherry Chocolate Chip Cake
14. Maraschino Cherry Cupcakes
15. Marbled Cherry Pie Cake
16. Glazed Chocolate Cherry Cookies
17. Easy Cherry Cheesecake
18. Cherry Chocolate Energy Balls  <<< bonus recipe from my wife's site: DivineLifestyle.com
Whether you wanted to make cherry cobbler, cherry crisp, cherry dessert bars, a quick cherry dessert or even a cherry pie recipe, you've come to the right place. We have canned cherry recipes, frozen cherry recipes, healthy cherry recipes, rainier cherry recipes, savory cherry recipes, sour cherry recipes, frozen cherry pie recipes, fresh cherry crisp recipes and so much more.  If you have a favorite cherry recipe, leave it in the comments. We hope that you loved these 17 Cherry Recipes. Happy cooking!